Biography
Claire Schoen began documenting the world through media as a photographer in high school and college, roaming the streets to find stories revealed in the faces of strangers. In her twenties, she moved into independent film and video production. Claire created a number of her own films and worked as a sound recordist and sound editor for other documentary producers. At the same time, Claire worked in post production on several feature films (Apocalypse Now, The Black Stallion, Never Cry Wolf). In the mid-1980s, she decided to "paint the pictures in sound" and began producing documentaries primarily in radio. While she has produced audio in all formats, her particular interest is long-form documentary, employing vérité storytelling and rich sound designs. Now she finds herself coming full circle, creating webstories which combine still photography with a documentary style of audio storytelling.
Documentaries open a window onto the lives of everyday people, weaving their stories into a narrative whole. To this end, Claire has worked with individuals from a wide spectrum of backgrounds, from undocumented Salvadoran immigrants (Voices in Exile), to Russians living in Soviet-era Moscow (Distant Neighbors), to Blacks and Jews working together in the Civil Rights movement (Can You Hear Me?).
The issues covered in Claire's work include nuclear proliferation, physical disability, communications technology, immigration policy, human rights, Jewish culture, genetic engineering, astronomy, urban greenbelts, care-giving for the dying and green energy, to name just a few.
Environmental programming:
Claire's particular interest is in environmental media education. Her environmental work includes:
— RISE: Climate Change and Coastal Communities, a media series (radio, webstory, podcast and museum exhibit) about the impact of sea level rise and extreme weather on people living by the water. 
— Mad River: Hard Times in Humboldt County, an hour-long documentary film about the perceived conflict between jobs and the environment in the logging industry. Produced for PBS, this documentary enjoyed a national primetime distribution on TV and 10 years of educational distribution.
— GreenBacks, a series of radio pieces (one hour-long documentary, three 15-minute features and 2 short features) on the economic promise of green energy.
— An Abundant Land, a 40-minute audio driving tour about San Francisco's agricultural greenbelt.
— Cow Heaven, a 30-minute radio documentary about San Francisco's agricultural greenbelt.
— EarthTones, 10 short radio features about the ecology of sound.
— The Osgood File, over 40 short features on the environment.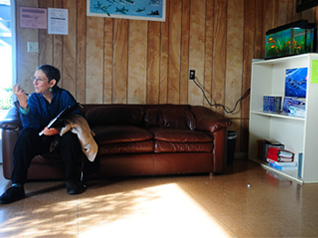 photo by Jan Sturmann
Claire Schoen
Contact Information
Claire Schoen Media
cschoen@earthlink.net
510-882-6164